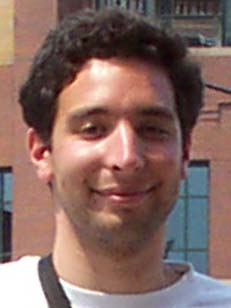 Joel Haas
Joel lives in Los Angeles where he is pursuing his screenwriting dream. As reality sets in, he is working at an Online University and is still making shorts.
Joel's most productive and successful film-making endeavors have mostly been with his 4 Guys, 1 Brain connections. He has worked in writing, modeling, set-design, non-linear video editing, sound editing, vocal direction, and several other aspects of the Tabletop animation process along with live action projects. His favorite moments in making the films include preproduction set design and hammering out the script, both of which provided excellent creative outlets.
Joel is an avid baseball fan. His devotion to his team, the Detroit Tigers, has led to him being dubbed "in love with a loser."
Tom Kuljurgis
Tom lives in L.A. as he pursues screenwriting and film development. In addition to these two animation films he has been involved in the production of 16mm short films, both comedies and a suspense/drama.
Tom co-wrote and directed Legos are not Enough and You Only Lego Twice as well as designing the sets and props for both films. He also subjected himself to a large share of the animation and lighting design.
While at Michigan he worked as an editorial cartoonist for The Michigan Daily, where his cartoon Tentatively Speaking ran twice a week for four years. Tom's other hobbies include design, golf, and camping. Having left Michigan, he no longer requires the goofy-looking hat he is pictured with.
Rob Peters
Rob works in Florida on stuff he can't tell us about. He likes driving his Mustang but wants to buy some fancy English sports car.
Rob was responsible for most of the photomanipulation of the "moving" images, editing most of the movie with a nonlinear editing program and helped with some sound effects.
Rob's hobbies include a variety of outdoor activities, listening to music all the time, and of course movies.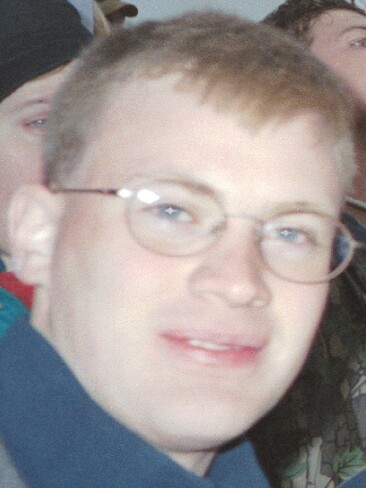 Mike Zapf
Michael works for the U.S. Army as a Computer Engineer. His interests include almost anything related to science and technology. He also enjoys bicycling, skiing (water and snow), SCUBA diving, photography, and reading.
Michael became involved with 4 Guys, 1 Brain Productions because the group needed a computer consultant. He also used a camcorder to document some of the production of Legos are not Enough. Eventually, he made himself more useful as a sound engineer-of-sorts. Since, Legos are not Enough, Michael is filling the position of Webmaster for the group.